| | | |
| --- | --- | --- |
| | Hydrangea anomala ssp. petiolaris - climbing hydrangea | |
| | | |
Within the Hydrangea family there is a special climbing species, namely the climbing hydrangea or Hydrangea anomala ssp. petiolaris , a widely used self-adhesive vine that nicely dressed many house walls . It is a robust and strong plant with creamy blooms with lacecap flowers , preferably in partial shade ( east-west -north side of house - on a southern orientation the flower buds are more likely to freeze in spring (they warm to soon up and start growing)

It takes quite a while but once the shrub has found the wall, he will attach himself like ivy with its suction cups . This Hydrangea is native to Japan and North -East Asia where he searches his way in trees and rocks . This shrub can also be used as a large ground cover in shady locations.

Alongside Hydrangea anomala petiolaris there is another climbing Hydrangea, Hydrangea anomala var . cordifolia , modest in size , with heart -shaped small leaves and lovely small flowers , self-adhesive and can grow 2.5 to 4m high over time .

Within the genus of Hydrangeaceae there is still an other exceptional climber that looks like a climbing hydrangea : Schizopragma hydrangoides , the flowers are also off the lacecaptype - corymbose , but the sterile florets sit here separately to the flower steal in the form of a heart instead of 3 to 4 flowers together like the climbing hydrangea . It is a sturdy climber up to 10 m can get high and a width of about 3 m The Schizopragma hydrangoides does include the variety ' Moonlight' with reddish shoots, greyish leaves and large white flowers up to 25cm and ' roseum ' (light pink flowers )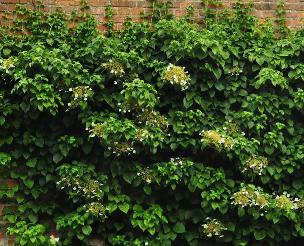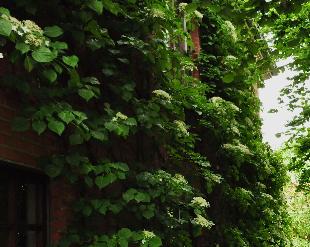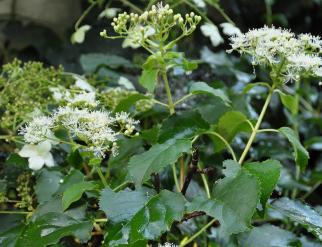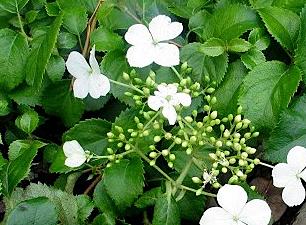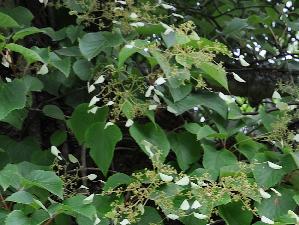 Hydrangea anomala petiolaris (climbing hydrangea is self-adhesive and flourishes also richly against a wall with northern orientation. The plant can reach a height of 8m without difficulty, the large white screen shaped flowers (20-25cm diam) appear from May to June, the climbing hydrangea is very hardy.
Hydrangea anomala var. cordifolia, cute little climbing hydrangea, max H 2.5 - 4m, self-adhesive, small heart-shaped, serrated leaves, elegant screen-shaped white flowers, long-stemmed outer florets, flowering time: may, Juni.
Schizophragma hydrangoides, deciduous shrub, height up to 8m, the screen white flowers are composed of small fertile flowers inside and large, drooping white border flowers, flowering time: July.